Bilingual Education without borders!
Carmel College Emmen is the only secondary school in the area with a bilingual education department. Our mavo, havo and atheneum bilingual pupils are taught both in Dutch and English, so they master both languages at a high level. In addition, world citizenship is an important aspect in bilingual education. Pupils learn about cultures and traditions around the world and have the chance to visit different countries during their school carrier. Lastly, personal development is a focus in bilingual education. Pupils discover what their strengths and weaknesses are and work towards personal goals.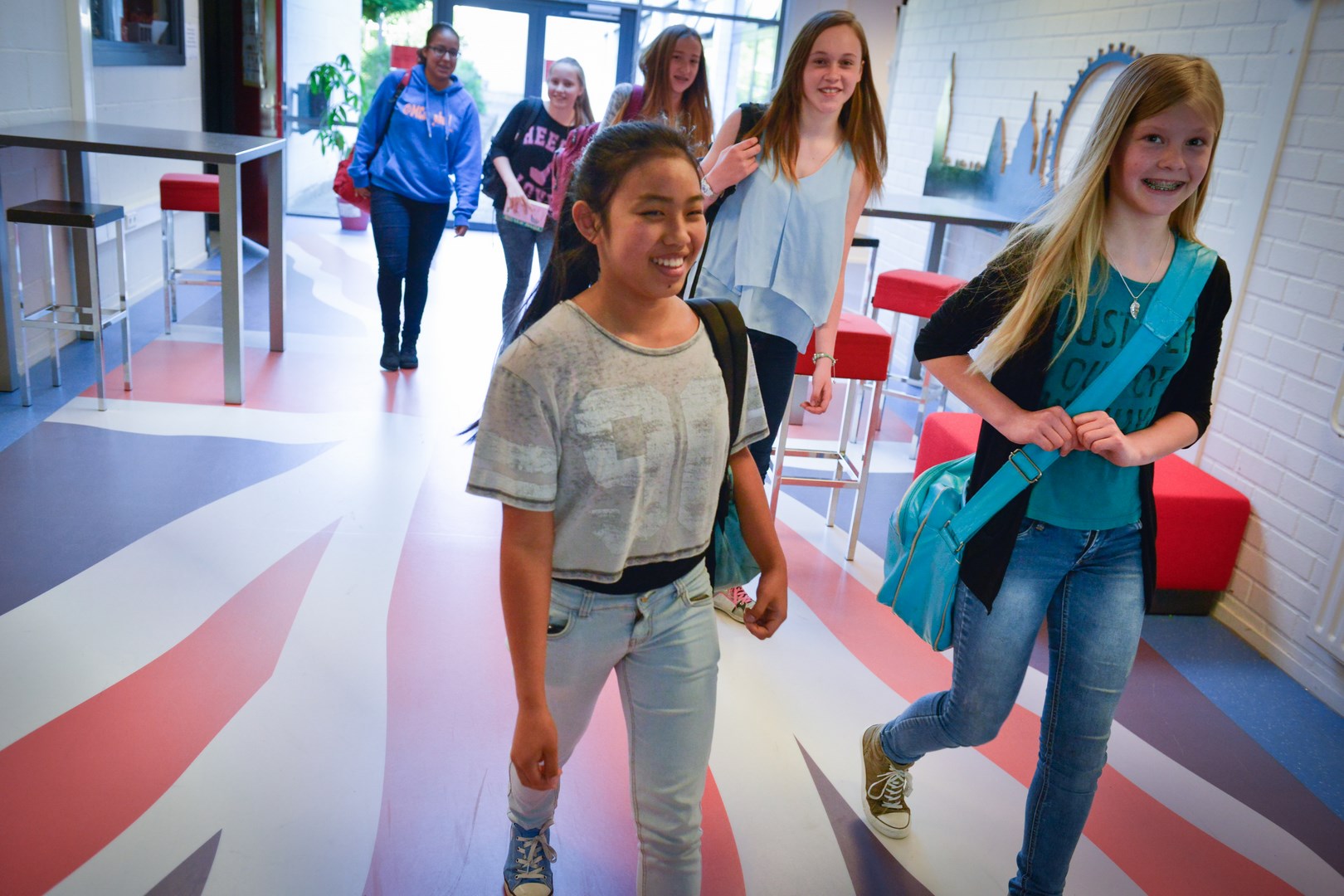 Why choose Bilingual Education?
Bilingual education is a varied form of education whereby English language skills, world citizenship and personal development play a major role. It is the perfect form of education for  pupils who would like to achieve an excellent command of the English language, for those who would like to get out into and understand the world and for those who see their future in an international context (internships, study, (charity) work, travel). But bilingual pupils don't just benefit in the future – bilingual education offers a different way of teaching, includes subjects such as global perspectives and philosophy, it is also a fun, challenging form of education that offers diverse cultural activities and study trips. In other words, bilingual pupils have a head start in the world due to their command of the language, their international orientation and their own personal development – they feel at home in Europe and beyond.
Lower School
The majority of subjects are taught in English for the first two (mavo) or three years (havo and atheneum) in our bilingual lower school.  Pupils also enjoy various world citizenship activities such as participating in the highland games, a science fair or St Patrick's Day. In addition, our pupils collaborate with pupils abroad and participate in at least one foreign exchange. At the end of lower school, pupils receive an accredited Bilingual Junior Certificate from Nuffic.
Bilingual Education in Upper School
Most subjects in upper school revert back to being taught in Dutch. This is due to the fact that  pupils sit their final exams in the Dutch language.
Bilingual pupils can attain a number of internationally recognized certificates in upper school. These certificates open doors to education at colleges and universities all over the world.
Mavo pupils sit the Cambridge First Certificate English Exam in year 3 or 4.
Havo and atheneum pupils sit the Cambridge Advanced Exam or the Cambridge Proficiency Exam in year 4 or 5.
Atheneum pupils participate in the Cambridge course Global Perspectives and Research. Atheneum pupils sit an AS-level exam (pre-university) in year 5.
Student Admission and Costs
Pupils with a positive recommendation for mavo, havo or atheneum education can sign up to follow bilingual education at Carmel College Emmen. Command of the English language isn't a requirement but you do have to have a feeling for/interest in the English language and the willingness and enthusiasm to spend more time on your school work. This is because bilingual education is challenging and especially challenging in the first few weeks.
Bilingual education carries extra costs with it, there is an extra parental contribution and also extra costs for exams and study trips organized out with the bilingual education programme.
More information
For more information about bilingual education please contact our bilingual education coordinator Mrs M van Ingen. You can contact her via the school's reception desk on 0591 – 622870 or by email m.vaningen@carmelemmen.nl